It's perfectly normal for most drivers — even highly experienced ones — to feel afraid of hitting a pedestrian or a cyclist, especially in a big city. Whether you're driving at 35mph or 15mph, hitting a pedestrian, or even another car, can result in severe injuries, high medical expenses, and multiple legal ramifications. However, what happens when you are on the other side and you get hit by a car?
If you are a pedestrian or cyclist that is hit by a car, you should immediately call the police, seek medical treatment, take pictures of the scene, and record all relevant facts and circumstances. This includes obtaining names, contact and insurance information, and license plate numbers of all people involved in the accident, as well as names and accounts of witnesses.
Steps To Take When After Getting Hit By A Car
Here are the main points to remember about what happens when you get hit by a car, including the different legal options you can pursue:
Determining Who Is At Fault
In most cases, the party who was most negligent will be considered at fault for an automobile accident. If a driver is traveling at abnormally high speeds, runs a red light, or ignores a stop sign or other traffic signs and rules, he/she will undoubtedly be deemed careless.
A pedestrian can also be considered negligent in certain cases. For example, if a pedestrian fails to pay attention and uses an area other than a crosswalk to cross the road, he/she could potentially be viewed as negligent for failing to follow traffic laws.
Know Your States Laws
Certain states, like Virginia and Maryland, follow what's known as "pure contributory negligence." This means that any negligence on the part of a pedestrian will bar him/her and his/her insurance company from recovering any damages from the driver and his/her insurance company.
Other states abide by a "comparative fault" rule, which dictates that a pedestrian has the right to recover certain damages, even in cases where he/she was partly responsible for the accident. In these states, the amount of recovery will be reduced by the amount of fault.
What Types Of Damages Can You Be Compensated For As A Pedestrian?
If you are a pedestrian who was struck by a car and was subsequently injured, you may be able to file a personal injury claim against the driver. This type of lawsuit can result in compensation for any damages you sustained, including medical expenses, pain and suffering, punitive damages, and lost wages due to an inability to work.
Pain & Suffering Damages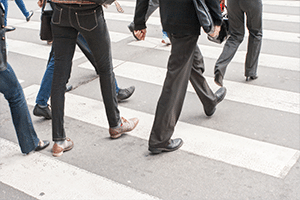 The monetary value of pain and suffering is often difficult to estimate. Oftentimes, a jury will determine this in a trial. If you have sustained minor scrapes and bruises and back pain for just a few days, for instance, your pain and suffering will likely be worth a few hundred dollars. However, if the injuries you suffered are more severe — like a broken collarbone, hip, spine, or a concussion — the value of your pain and suffering may be in the hundreds of thousands of dollars.
"Loss Of Enjoyment" Damages
"Loss of enjoyment" is defined as the negative effects an accident has on the injured individual. Therefore, should you become paralyzed as a result of an accident, you could claim "loss of enjoyment" as damage, because you would not be able to completely return to your normal life and daily activities.
It's also important for you to keep all documentation (i.e. receipts) of all medical expenses, whether it's treatment received by your primary care physician or from emergency room attendants. These records will be crucial when dealing with insurance companies and juries should your case go to trial.
Seeking More Information About Dealing With Damages After A Car Accident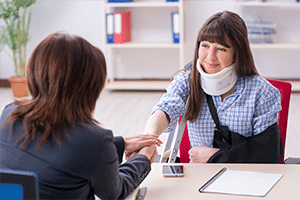 Speak to the personal injury attorneys at Parnall & Adams Law in Albuquerque, New Mexico to learn more about what to do if you have been hit by a car. They are highly knowledgeable civil litigators who have directly handled all types of road accident cases, including car and truck accidents, motorcycle accidents, and SUV rollovers.
Parnall & Adams will help you optimize the value of your claim by offering exceptional legal advice and counseling. They are highly knowledgeable about New Mexico's tort laws and will thoroughly explain to you how these laws apply to your case. The first consultation is free, and they offer a 24-hour voicemail. They will also return your calls on the same day they were received. Among the most common types of damages, they help clients recover are medical expenses, permanent injury or impairment, pain and suffering, loss of enjoyment of life, loss of household services, and punitive damages. In extreme cases, Parnall & Adams will also help you get compensation for loss of work and rehabilitation costs.