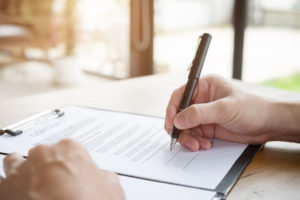 An incident that results in a personal injury such as a slip-and-fall, car accident or animal bite can be highly traumatic, especially if it leads to a decline in your quality of life. If you have sustained minor injuries and recovered relatively quickly, you may be able to negotiate your claim with the opposing party's insurer without legal assistance. If your injuries are severe, it is recommended that you hire an experienced personal injury attorney to assist you with negotiations with the at-fault party's insurance company.
The negotiation stage of a personal injury claim starts once you submit a written request for compensation to the insurer. This request is known as a demand letter.
What Is A Demand Letter?
In personal injury cases, a demand letter is a written request for compensation for injuries suffered. This letter must be carefully composed and clearly delineate all arguments for why you believe you deserve the sum of money you are requesting.
How To Prepare A Strong Demand Letter
Your attorney can help you draft a powerful demand letter. However, there are two actions you should take before writing this request. Below is a closer look at these two steps.
Calculate Injury Claim Value
One of the first steps you should take after sustaining a personal injury is to calculate your claim value. You can do this by adding all the hard costs that resulted from your injuries in order to determine the total sum of all damages. These include general damages such as emotional distress, persistent sleep loss, and anxiety and depression, or special damages — the dollar amounts of past and future lost wages and medical bills.
Organize Important Evidence
There are five key documents that serve as evidence for your claim that you should compile before submitting a demand letter:
Medical bills and records (including physical therapy-related records)
Wage verification
Photographs of the incident
Witness statements (which typically do not need to be notarized)
Police (or incident) reports
Get Tips From Experienced Personal Injury Attorneys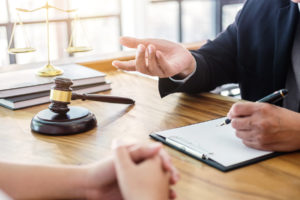 In addition to compiling key evidence for your claim, you should ask your attorney for letter-writing tips. This includes using top-quality white bond paper and verifying your letter's spelling and grammar, including all names and addresses. Your attorney may also offer you advice on which legal terminology to use and which words to avoid. Your lawyer will also likely advise you to send your letter via USPS certified mail and to ensure that you request a return receipt.
Steps To Writing A Demand Letter
There are six major sections in a demand letter in a personal injury case. Each of these components is outlined in more detail below.
Demand Letter Heading
The heading should contain information about you and your claim, as well as the purpose of the letter. Be sure to only include details that are relevant to the incident.
Presenting Facts & Scenario
The body of your letter should primarily include a clear presentation of the facts of the incident. This includes an explanation of the circumstances that led to your injuries. You may use "approximate" language when stating times (e.g. "Friday at 5pm" rather than "Friday at 5:09pm) in order to prevent the insurance adjuster from making technical counterarguments.
Detailed Description Of Damages
The following section of your letter should include a detailed description of all your damages, general or special. You should include details that demonstrate how your life was significantly changed by the incident (e.g. you were unable to attend a funeral for a relative or were forced to cancel a business trip).
Showing The Insured's Negligence
Your letter of intent should, among other things, clearly demonstrate that your injuries occurred as a result of the insured party's negligence. Insurance companies will often attempt, as part of their negotiation strategy, to wrongly blame you for your injuries.
Detail Specific Amounts Of Money
Ultimately, money represents a major aspect of personal injury cases. Therefore, you should indicate the exact sum of money you are demanding for all damages sustained. You may ask your attorney for recommendations on whether you should round this figure up or down.
Demand Letter Closing
In the final paragraph of your letter, you should thank the insurance adjuster for paying attention to your case. You should also clearly state a date by which you expect to receive a response from the adjuster.
Reach Out To Professional Personal Injury Attorneys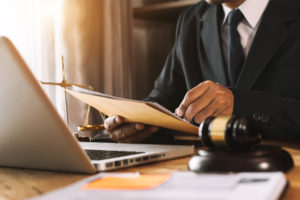 Speak to the professional personal injury attorneys at Parnall & Adams Law for more information on how to write a demand letter. As career civil litigators and prior federal prosecutors, we know that each case is unique.
We have experience dealing with several types of personal injury cases, including car accidents, dog bites, construction site injuries, and medical malpractice. We can help you recover damages such as medical expenses, pain and suffering, and punitive damages. If your case ends up in court, we can defend you as well.
Call Parnall & Adams Law today at (505) 886-4446 or contact us online to request a consultation with one of our experienced attorneys.